China and the climate after COP26
This Briefing Paper maps China's greenhouse gas emissions and its role in climate change, and reviews the Chinese authorities' climate ambitions and action plan to achieve carbon neutrality.
China's emissions are the single most important factor for the future of the climate. The country currently emits more CO2 than the EU and all other OECD countries combined. In contrast to other leading economies, Chinese emissions increased even during the pandemic, and are expected to continue to increase until 2030, according to the authorities' official climate policy.
Dependence on coal is the main source of these emissions. To be sure, China has recently pledged to stop financing coal power abroad and is investing heavily in green energy. But at the same time, it is expanding its own coal power, despite the fact that it already burns more than half of the world's coal. Furthermore, China's huge emissions are due to domestic factors rather than exports to Western consumer societies.
Like many other countries, China intends to become carbon neutral. However, the question is whether Beijing's timetable for this is realistic, as emissions will grow for many years to come.
Although developments in China are absolutely crucial to climate change, Beijing's behaviour is given little space in the Swedish climate policy debate. Even less does this fateful issue appear in Sweden's climate policy, which is both a rejection of our own approach and a threat to the climate.
Anyone who does not have a China strategy cannot be said to have a climate strategy.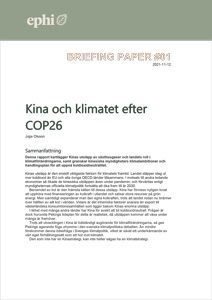 Author talk with Jojje Olsson