Spruträdd - Vaccine resistance in Sweden during the coronavirus pandemic
The willingness to be vaccinated is high in Sweden, but at the same time there are many people who choose not to be vaccinated. What is the impact of the so-called anti-vaccination movement? And how does it work?
In order to design vaccination campaigns that are safe and make people feel safe, we must genuinely try to understand the anti-vaccination movement, what drives it and how it influences. Vincent Amble-Naess is a junior doctor and writer who has worked in elderly care. His experiences and essay offer a particularly relevant and interesting perspective on the issue.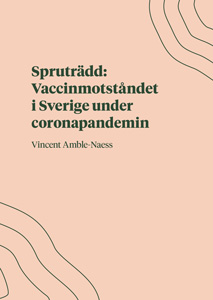 Vincent Amble-Naess on his essay